MP4 Youtube Video Downloader

It is very easy to download any youtube video with our free MP4 Youtube Video Downloader software. Just go to youtube.com and locate the video you want to download. From the browser address bar, copy the URL of the youtube video web page. After that, open the MP4 Youtube Video Downloader software, paste the URL into the text box on the top of the main window as shown below,

After that, simply click the download button to start downloading the video. Next you will see a dialog prompting you to select the video format and resoution / quality,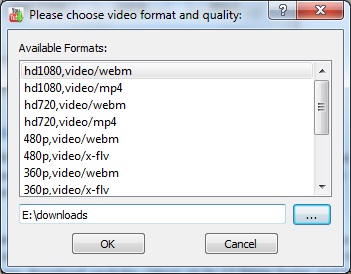 For example, you can select 1080p HD resolution and MP4 format, the highest quality available for download, select a output folder to store the downloaded video and then click OK. After that, download will start immediately,

After that video is successfully downloaded, you can click the Play button to play the video immediately and use the open folder button to locate the video file in Windows Explorer. If you wish to download another video, just paste another address into the text box and click "Download" button. Download a video from youtube can't be easier than this!
If you would like to download multiple videos at the same time, or if you would like to download youtube videos directly from the browser, or if you want to download videos at a much faster speed, you can use SlimBrowser to do that. SlimBrowser is a free web browser which lets you download youtube videos up to 12 times faster and lets you download multiple videos at the same time.