Proxy Switcher lets you switch proxies fast and easy
If you have a list of proxies that you use every day for different purposes, switch between different proxies manually can be painful and inconvenient if you do it in other browsers such as Internet Explorer, Google Chrome or Firefox. Every time you want to use a different proxy, you have to open the option page first, then type in a different proxy IP address (which is always hard to remember) and a different port number.
In SlimBrowser, it is very easy and fast for you to switch between different proxies. In the proxy organizer, you can define a list of proxies and assign an indicative name to each proxy. The proxy organizer dialog is shown below,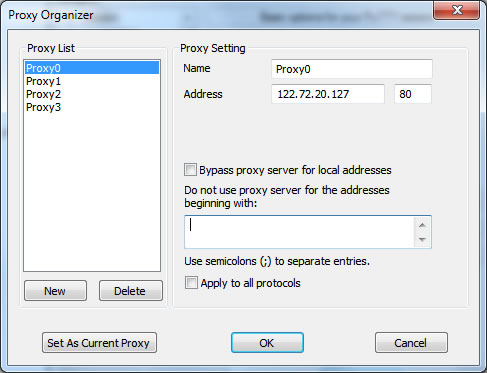 After you have defined the list of proxies, you can easily switch between all the predefined proxies from the drop down menu on the Proxies toolbar button as shown below,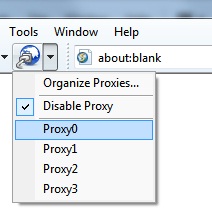 If you are not yet an existing SlimBrowser user, Download SlimBrowser for FREE Now to start enjoying the proxy switcher feature and a lot more other powerful features available in SlimBrowser.